Over 30 years combined wheel and tire service!
We aim to be Arizonas Premier Mobile Tire Company.
Freedom Tire Guys Arizona is a team that excels in what matters most, customer service. It only makes it that much better when our professionals have over 30 years of experience in the tire industry. Bringing to you, our valued customer, the knowledge and expertise to ensure that you are driving safely throughout your day.
From flat tires, to new wheels, we aim to be your go to for all your mobile tire repair needs in Arizona.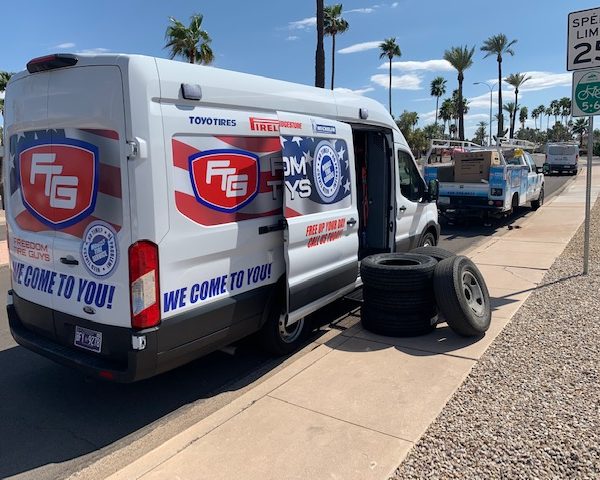 You Continue Enjoying Your Day
Phenomenal crew, and fantastic customer service. My truck ended up being difficult (not at all on them, I have a custom offroad setup) and rather than complain and moan, they attacked it head on and got it done right the first time with perfect results. Couldn't ask for anything more from them. GREAT PRICING AND GREAT CUSTOMER SERVICE, GO TO THESE GUYS!

Christian Stewart


August 1, 2022

Great costumer service. Came to my house and got everything done in under an hour. Recommend using this company.

Cole Chesney


April 22, 2022

Highly recommend FREEDOM TIRE GUYS AZ (FTG). I contacted them and asked for a quick turnaround. They delivered and exceeded my expectations in all areas: courteous timely service, tire availability, price, and quality of work. And it was very convenient having them come to me. They will always have my business. Give them a try. FTG will not disappoint!

Scott Schraml


April 23, 2022

Excellent service, great pricing, and I didn't have to leave my home. Highly recommend!

Mike Pickard


April 24, 2022

LJ was prompt and stood by his price which was fair and reasonable. He came out to where I was and changed 2 front tires extremely fast. Much appreciated, I will use this LJ again. Thank you sir for getting me back on the road quickly.

Vince Braydon


July 3, 2022

They team at Freedom Tire Guys Arizona were top notch from start to finish. Let them know what I was looking for even though I wasn't sure I was asking for the right things. They provided me with multiple options for wheels and tires. Picked out what I wanted. Let them know the best day for them to show up to do work and they got me scheduled right in. The wheels and tires look great. I now have a spare which I hadn't had since I got it since the old tires were too wide to allow the spare to hang on the side like it was supposed to for this model of 1974 Jeep CJ5. Top pictures are from the night before and the bottom pictures are from after. Thanks LR, TJ, and GR for the great job!

Keith Brown


May 5, 2022

These guys are AMAZING!!! The process was so easy! They came to my work, changed out the bad tires, and were done in literally 10 minutes. I highly recommend Freedom Tire Guys!!

Hailey Petrini


May 18, 2022

These guys are awesome! I'm a local hvac contractor so summer is very busy. Standing in line at the tire store is too time consuming when people don't have ac. I called them and they came to me without me having to shutdown operations for a tire repair. They were able to replace a tire that was bad, but also found and repaired a nail puncture that I didn't even know about. They're thorough and saved me for sure! From start to finish, they're fantastic! Great prices and very professional. I recommend them to all of my friends and family now!

James Moss


September 7, 2022
Take a listen to this recent radio interview we did.