Over 30 years combined wheel and tire service!
We aim to be Arizonas Premier Mobile Tire Company.
Freedom Tire Guys Arizona is a team that excels in what matters most, customer service. It only makes it that much better when our professionals have over 30 years of experience in the tire industry. Bringing to you, our valued customer, the knowledge and expertise to ensure that you are driving safely throughout your day.
From flat tires, to new wheels, we aim to be your go to for all your mobile tire repair needs in Arizona.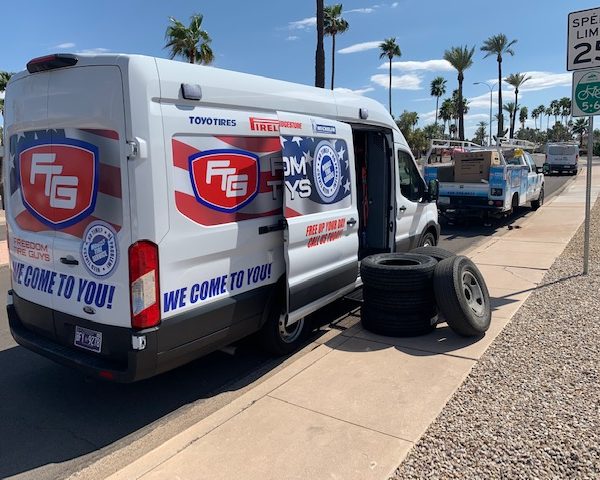 You Continue Enjoying Your Day
These guys are awesome! I'm a local hvac contractor so summer is very busy. Standing in line at the tire store is too time consuming when people don't have ac. I called them and they came to me without me having to shutdown operations for a tire repair. They were able to replace a tire that was bad, but also found and repaired a nail puncture that I didn't even know about. They're thorough and saved me for sure! From start to finish, they're fantastic! Great prices and very professional. I recommend them to all of my friends and family now!

James Moss


September 7, 2022

These guys are AMAZING!!! The process was so easy! They came to my work, changed out the bad tires, and were done in literally 10 minutes. I highly recommend Freedom Tire Guys!!

Hailey Petrini


May 18, 2022

From my phone call to repair completed, it couldn't have been longer than 30 mins. LJ was very personal and was a pleasure to work with. No one wants to deal with a flat but Freedom Tire Guys Arizona made this unpleasant situation go away almost as quickly as it happened. Also, very competitive pricing for the repair. I will use this company for all of my tire needs. Highly recommend.

Matthew Loven


July 26, 2022

We found out our daughters car needed new tires after a routine oil change. Time was tight for us and we felt we needed to get this handled as soon as possible. LJ and his team were quick to adjust their schedule and get right over the next day. By the time I was home for work they were half way through the job. Excellent service! Easiest set of tires we've ever had installed!

Jason Wilson


September 30, 2022

These guys were fast, convenient, and professional. LJ communicated proactively and displayed extremely professional customer service skills. Highly recommended!

Jacob Caputo


April 27, 2022

Your time is valuable, don't waste it sitting in discount tire or big o. Freedom tires service is second to none. LJ basically read my mind told him what I was thinking left it in his hands went to work came home to awesome new wheels and tires. I wish everything was this easy. Well done freedom tire team! I will never use anyone else for my tire/wheel needs.

Chuck Mcfall


July 15, 2022

Great costumer service. Came to my house and got everything done in under an hour. Recommend using this company.

Cole Chesney


April 22, 2022

What can I say. These guys get it done with the most competitive pricing and you don't have to sit in a waiting room for hours. Awesome customer service and quick to answer your call. Not sure why you would go anywhere else.

Mike Marinello


July 15, 2022
Take a listen to this recent radio interview we did.